---
MobileMe iDisk Support
Add comment
Views: 10988

Votes: 1

Comments: 0
Posted: 29 Jul, 2009
by: Admin A.
Updated: 18 Oct, 2009
by: Admin A.
MobileMe iDisk is an online data storage service offered by Apple. MobileMe iDisk provides a simple web server to access any file that is stored in their storage cloud. This means, you can access files stored at MobileMe iDisk in Finder, or directly via a web browser. It is based on the
WebDav protocol
, which is supported in CrossFTP Pro.
To get an MobileMe iDisk account:

Open page MobileMe, and locate the sign up link on the page. Click the link and follow the instructions.
After success registration, you will get your member name and password. You will use this information to access your MobileMe service.
To connect to MobileMe iDisk in CrossFTP:
Create a new site in CrossFTP, and click iDisk button. A popup dialog will be displayed, and fill in your member name.

Fill in the password, and click Connect to connect to your MobileMe iDisk.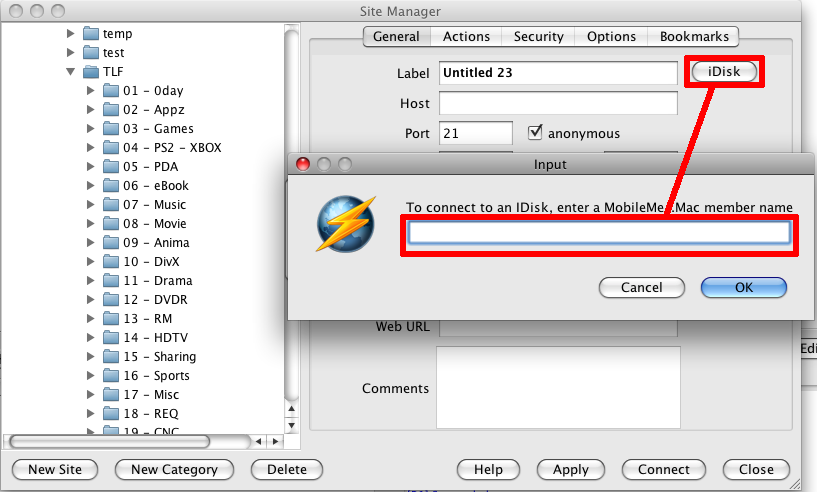 How to transfer files from/to MobileMe iDisk?
Just like the traditional FTP file transfer, you can just Drag & Drop the files from/to your MobileMe iDisk site. Multiple tabs, multiple threads, queue modifications, directory synchronizations, etc are naturally supported for the MobileMe iDisk transfer as well.
How to setup the secure transfers for MobileMe iDisk manually? (Optional)
To create a secure MobileMe iDisk site, please choose the WebDav/HTTPS protocol, and fill in the site information as follows, in which user name should only contain your
member name
, without the "@me.com":
Host: idisk.me.com
Port: 443
User name: ReplaceWithYourMemberName
Password: ReplaceWithYourPassword
Protocol: WebDav/HTTPS
RemotePath: /ReplaceWithYourMemberName/
P.S. It seems that the .Mac's certificate does not conform to the standard format, and this causes an error to make the HTTPS connection handshaking. To avoid this problem, you can choose "Global Options -> Connection -> Always Trust Server Certificates" to bypass certificate verification. However, you need to pay more attention to make sure the host is not malign in this case.
---