---
WebDav and WebDav/HTTPS Support
Add comment
Views: 8415

Votes: 0

Comments: 0
Posted: 19 Sep, 2009
by: Admin A.
Updated: 10 Nov, 2009
by: Admin A.
Web-based Distributed Authoring and Versioning, or WebDAV, is a set of extensions to the Hypertext Transfer Protocol (HTTP) that allows users to edit and manage files collaboratively on remote servers. WebDav/HTTPS is provides security enhancement for the WebDav protocol based on TLS/SSL secure layers. CrossFTP Pro supports both WebDav and WebDav/HTTPS protocols.
A number of cloud storage services are based on WebDav(s). Please check the detailed guidelines for their setups in CrossFTP Pro, including
MobileMe iDisk
and
Sun Cloud Storage WebDav/HTTPS
.
To get a WebDav account:
If you have not got a WebDav account yet, you can register a host provider (such as bluehost), or you can create a WebDav server on your own machine (such as Apache HTTP server with WebDav mod).
After successful registration/creation of your WebDav account, you will get your WebDav server's host, port, user name, and password.
To connect to a WebDav account:
Create a new site in CrossFTP, and choose the Protocol field as WebDav (default port is 80) or WebDav/HTTPS (default port is 443). After that, fill in the Host filed with your server's host, and Port field with your server's port.
Enter your User Name field with user name, and Password field with password information, and press Connect to connect to the FTP Server.
Setup your site's web URL (optional). If you want to preview your web pages, or copy the page's URL address, you can fill in the Remote Path field with your site page files' root path on your server (e.g., /public_html), and the Web URL field with your site's root URL (e.g., http://www.crossftp.com/). After that, you will be able to copy the page's URL, or preview the pages in your favorite web browser.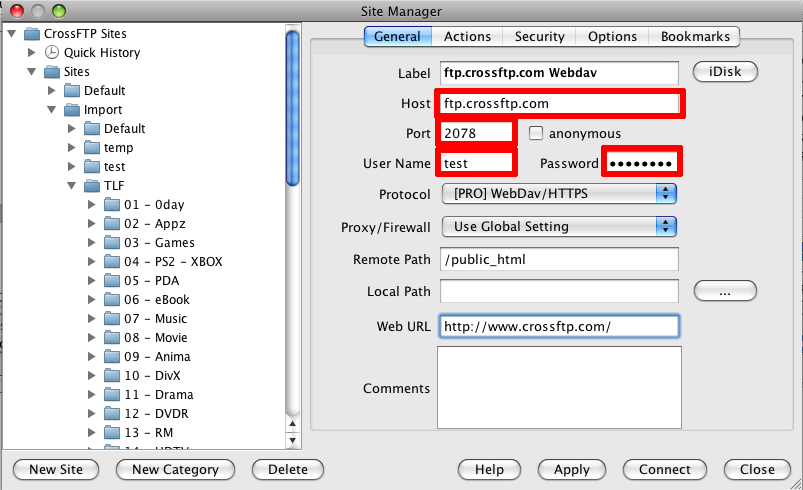 ---